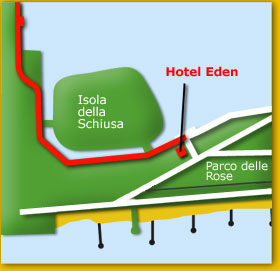 WHERE WE ARE
Hotel Eden
Via M. Polo, 2
34073 Grado
Tel. ++39 0431/80136 - 84481
Fax: ++39 0431/82087
E-mail: info@hoteledengrado.it


Skype: giovanni.olivotto



Hotel Eden is located in the centre, just a few steps away from the entrance to the beach, Parco delle Rose and the regional congress centre. The Terme Marine, Parco Termale Acquatico tennis courts, mini-golf and the port can all be easily reached by foot.

Grado is:
18 km from the airport of Ronchi dei Legionari;
18 km from the railway station of Cervignano del Friuli;
32 km from the highway tollgate of Palmanova.